CLEARANCE: RefectoCil Oxidant 3% (10 Vol) Developer Cream
Refectocil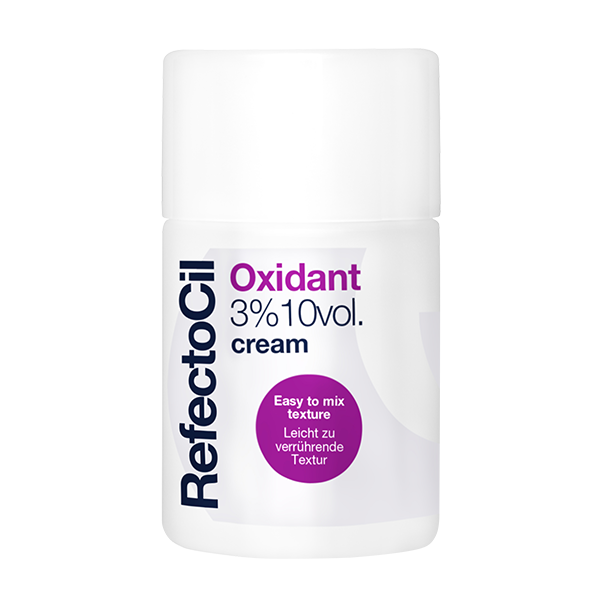 OXIDANT 3% CREAM
---
Stabilised cream developer
---
In addition to the developer RefectoCil Oxidant 3% liquid the new RefectoCil Oxidant 3% cream is now available, a stabilised, cream-based developer for RefectoCil eyelash and eyebrow tints.
Due to its creamy consistency RefectoCil Oxidant 3% cream can conveniently be mixed with the RefectoCil tints to a homogenous paste which can be applied easily to the lashes and eyebrows. The convenient dropping device allows the drops to be dispensed precisely and economically by pressing softly on the plastic body of the bottle. Also, the dispenser guarantees that no impurities can get into the bottle.
Important note: Only the use of RefectoCil Oxidant guarantees the widely known perfect tinting results with RefectoCil tints. Therefore use RefectoCil Eyelash and eyebrow tints always with RefectoCil Oxidant 3% liquid or cream.
Content: 100ml
Sufficient for approximately 200 applications.
Please read the instructions for use!
Lashes: for professional use only!
THIS ITEM IS NOT ELIGIBLE FOR DISCOUNT CODES
Customer Reviews
Nozzle was funky... But developer works!
I thought I was doing something wrong because there was no nozzle, so it was difficult to measure the right amount to use. After my second use I noticed something plastic and misshapen wedged in the lid, and it was the nozzle, but bent in half like a C. I heated it in some boiling water and was able to cram it into the neck of the bottle, now it dispenses properly. The developer works exactly as it should, I just wish the reflectocil tints had a similar texture so they'd mix together a bit less chunky.