Refectocil Eyebrow and Eyelash Tint No. 2 BLUEBLACK
Refectocil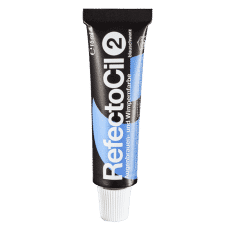 EYEBROW AND EYELASH TINT NO. 2 BLUEBLACK
---
For particularly expressive eyes!
---
RefectoCil No. 2 blue black is a black colour with a blue lustre providing additional colour depth to the tinting result. This colour is ideal for anyone who wishes "more" than just a normal black.
With RefectoCil you will always achieve a beautiful, long-lasting and intensive tinting result on eyelashes and eyebrows. Tinted lashes appear clearly longer and more voluminous, as the tinting accentuates the full length of the lashes faded by sun and water. The tint highlights bright and lengthens short lashes; it adds gloss and shine to dull hairs and freshens already greying lashes and brows. Tinted eyebrows appear better defined and more colour intensive. Your eyes appear livelier and expressive – even without make-up. The tint is absolutely smudge- and waterproof and lasts up to 6 weeks.
The best result is achieved when applying the tint regularly, because with each tinting the colour will penetrate deeply into the eyelashes leaving them more intensely and durably coloured.
Content: 15 ml
Sufficient for approximately 30 applications.
Please read the instructions for use.
THIS ITEM IS NOT ELIGIBLE FOR DISCOUNT CODES
Due to FDA regulations this product is not eligible to be shipped to the USA