Clearance Dlux Pro Silk Lashes - B Curl
Dlux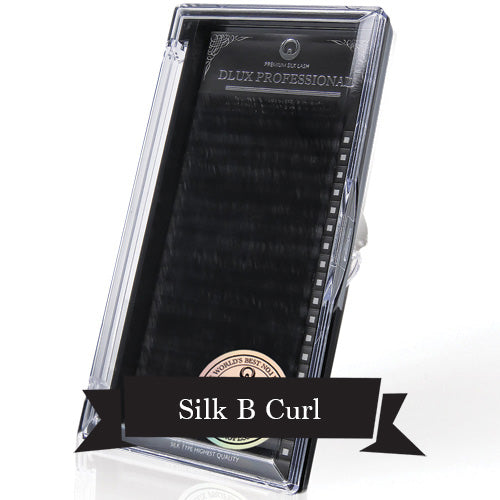 Dlux Pro Silk Lashes are precision manufactured from sterilized PBT materials from Korea and have a deep, rich black and fairly "matte" finish.  Through precision manufacturing, our lashes retain their curl beautifully!  These silk lashes are ultra soft and luxurious. You will feel the difference!
All Dlux Pro lashes are triple treated to retain their beautiful curls.  All lashes go through a 6 point inspection process to ensure perfect length, thickness and curl.
Number of rows in a box: 18
Thickness:                 0.07mm, 0.10mm, 10.5mm, 0.18mm, 0.20mm and 0.25mm.
Curl Type:                   B
Individual lengths: 8 ~ 16 mm
Mixed lengths:       6 mm (1), 7 mm (1), 8 mm (1), 9mm (2),10 mm (3), 11 mm (3),
                                     12 mm (3), 13 mm (2), 14 mm (1) and 15 mm (1)
Dlux is unfortunately discontinuing carrying B Curl trays.  The prices have been reduced but the product is still the high quality you expect from Dlux Professional.