Dlux Pro Ultra Flawless Adhesive
Dlux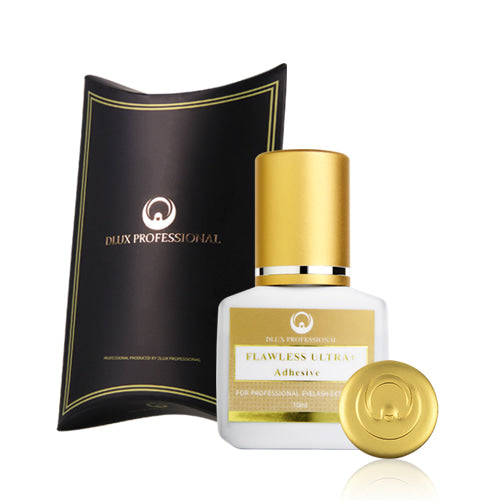 Dlux Ultra Flawless Adhesive

 You've asked for it and it has arrived! The perfect adhesive for the most gorgeous long lasting lashes.  Dlux Professionals Flawless Ultra is the newest blend of adhesive available. Boasting a lasting power of 8-9 weeks and a drying time of 1-2 seconds which gives you an almost instant bond. A flawless adhesive with a flawless black finish. Perfected for both classic and volume practice.  Remember ladies to shake your adhesive before each use!
Drying time: 1-2 seconds
Skill level: Advanced
Fume: Low
Color: Black
Consistency: Thin
Hold up time: up to 8-9 weeks 
Size: 5ml &10ml
Origin: Made in Korea
Optimal Humidity: 60-80%
Adhesive Disclaimer:
When starting with a new adhesive there is a learning curve. Not all adhesives behave the same and should not be treated the same. Even the most experienced technician will have to learn how to work with any new adhesive they encounter. Retention issues are usually the result of technicians failing to use the product correctly or not using enough. With adhesives of a thinner consistency it is recommended to use more adhesive. A small bead should be seen at the bottom of the classic lash.  Please always use a Hygrometer in your lash room to ensure humidity requirements are met. Temperature and humidity will both cause retention issues.
There are ABSOLUTELY NO RETURNS and NO REFUNDS on open adhesive.
To avoid any irritation:
Clients must keep their eyes closed throughout the entire application Dry clients lashes with a fan for a few minutes following application or till lashes are completely dry before allowing your clients to open eyes.
Use this product with extreme care. The adhesive should never have contact with clients skin and eyes. We sell to professionals only!
Use on clients only. Never try to apply eyelash extensions by yourself.
Close cap tight after each usage.

**IMPORTANT DISCLAIMER** Please read before you purchase our adhesives.  
We registered all of our Dlux Pro Eyelash Extension Adhesives with Health Canada.  Proof of certification must be submitted before you make your first purchase.  Please purchase our professional eyelash extension adhesives only if you have had the proper training in the technique to apply single strand eyelash extensions. All of our adhesives and glue removers are to be used by trained professionals ONLY.  DO NOT use the adhesive on yourself because it is very dangerous.   Adhesives should never touch the skin or too close to the skin.  We are not responsible for the misuse of our adhesives.  You are solely responsible for the products once you purchase them from us. If you purchase eyelash extension adhesives with possible fumes, you must know how to avoid irritation and inflammation if it occurs.
Material Safety Data Sheet (MSDS) is available upon request.  Please feel free to email us at info@lashforless.com if you want to receive them.  Customer's safety is our most concern.