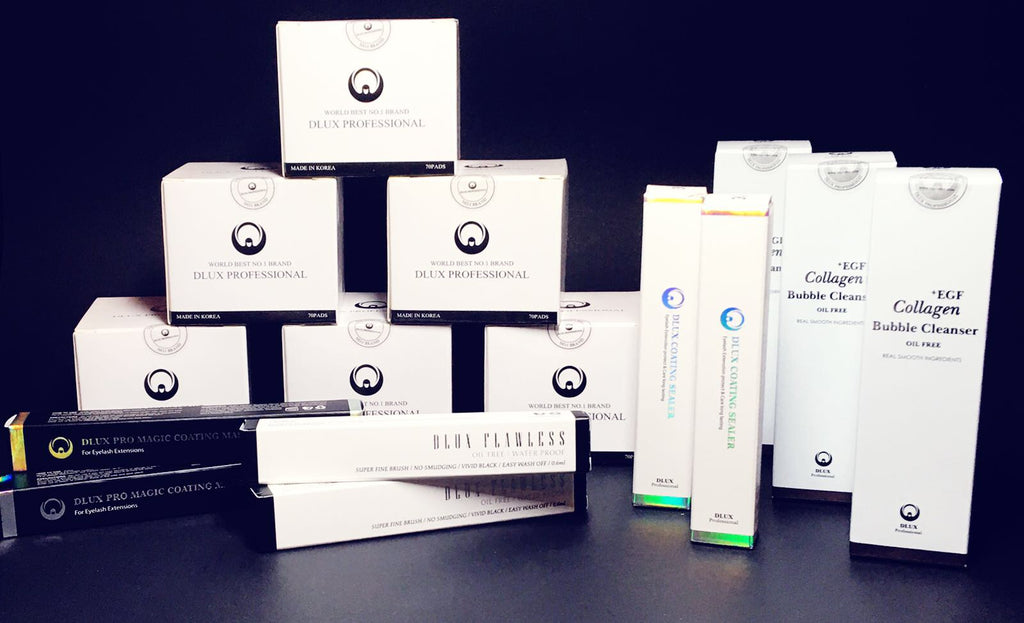 How offering retail can increase your income and save you time!
Dlux Professional offers a large line up of retail items that you can sell to your clients, that not only will helps your clients have better retention, but will help you increase revenue for your home business.

Dlux professional prides itself on providing lash artists with oil free cosmetics as well as lash safe cleaning products that can help fight eye conditions and build up. By offering these items for sale in your home salon you could be giving your clients options they never even knew existed. So why not help your clients have the healthiest lashes possible and at the same time help build up your revenue! We have all been there, clients using mascara/eyeliner/oily make up remover than pleading ignorance as to why their lashes aren't lasting.  By being able to provide eyelash extension safe items for retail you could be helping yourself save time for future fills with extensions that can last longer.  Protein build up becomes a thing of the past by introducing bubble foam cleanser to your clients.  With the help of bubble foam cleanser you could help your ladies battle protein and warning signs of blepharitis without destroying your adhesive bond. Have a client addicted to using mascara? Suggest Magic coating Mascara, a super black tinted sealer that not only protects adhesive bonds, but tints natural lashes to help give that client a dark glossy finish to their extensions.  Get your ladies using products that aid you as a lash technician instead of hindering you and you'll be loving your lash life. Plus you'll have some extra income to spoil yourself with. <3

For the month of October receive a FREE Vivid Black Eyeliner with every purchase over $200!
A unique cleansing foam that effectively removes eye make-up, oil, and protein build up and does not weaken lash extension bonds. Proper cleaning of lashes is essential in preventing eye conditions that can happen when bacteria or PH levels are out of balance. This is an absolute must-have product for all lash extension wearers to maintain eye hygiene and health!It has been used on clients suffering from blepharitis with remarkable results. 
LFL ARTIST PRICE: $17.95
SUGGESTED RETAIL PRICE: $25

Dlux Pro Gel eyeliner is a new and improved formula.  This oil free liner is available in two gorgeous colours, is extension safe and can be easily removed with just water.  A great product to offer as retail to clients. 

Super Fine Brush
No Smudging
Easy Wash Off
Available in Vivid Black and Matte Brown

LFL ARTIST PRICE: $12.95
SUGGESTED RETAIL PRICE: $22

Dlux Pro Coating Sealer is a must have product that maximizes the strength of the adhesive bond while protecting the lashes against oils, dirt, water, humidity, perspiration and other factors that can break down the adhesive. Sealers also keep extensions moisturized, glossy and groomed beautifully. 
LFL ARTIST PRICE: $14.95
SUGGESTED RETAIL PRICE: $36

Dlux Pro Eye Make Up Remover Pads are pre-moistened, oil free and are safe for eyelash extensions. One step cleansing treatment specially designed to remove protein or cosmetics on eyelash and eye-zone. Gently moisturizing the skin with just a single use.Your skin will feel fresh, smooth and moisturized. Clients love this product as part of their after care routine.
LFL ARTIST PRICE: $14.95
SUGGESTED RETAIL PRICE: $20
 

Dlux Pro Magic Coating Mascara is actually a deep black tinted sealer for classic eyelash extensions, a hybrid between mascara and sealer. So effective, that it will tint the skin, so apply carefully and slowly to the lashes only, avoiding the eyelid area. 
It is a must have product that maximizes the strength of the adhesive bond while protecting the lashes against oils, dirt, water, humidity, perspiration and other factors that can break down the adhesive. Sealers also keep extensions moisturized, glossy and groomed beautifully. This product has deep black tinted color giving lash extensions a more dramatic look. Perfect for those clients that love to wear mascara, because the tinted sealer gives them the dark finish that they are looking for without the weight and mess to their lashes! Remove nightly with oil - free makeup remover wipes. For classic extensions, not volume clients, as tinted sealer with close the fans.

LFL ARTIST PRICE: $14.95
SUGGESTED RETAIL PRICE: $36
Why not increase your home services while you're at it?
LFL is happy to announce the release of the Dlux Flawless Curl Lift Kit  with Training course! Already hold a certificate in Lash Lifting? Great you can buy the kit straight from us! Need some official training? Sign up for our online course and recieve an official certification! $330 gets you the Kit plus the course and October is a great month to expand your services because using the code "FlawlessCurl" you can save 15% on the combo which saves you almost $50!  Buy it Here
Comment offrir des produits de revente peut augmenter votre revenue et sauver votre temps!
 
Dlux Professional offre une large gamme de produits de revente que vous pouvez offrir à vos clients, qui aidera non seulement vos clients à garder leur cils plus longtemps, mais vous aidera à augmenter vos revenus pour votre entreprise à domicile.
Dlux Professional est fier de fournir aux artistes des produits cosmétiques sans huile, ainsi que des produits de nettoyant sécuritaire pour les extensions de cils qui peuvent aider à combattre certaines maladie oculaires et empêcher de développer des bactéries. En offrant ces produits à vendre dans votre salon, vous pourriez donner à vos clients des options qu'ils n'ont jamais su exister. Alors pourquoi ne pas aider vos clients à avoir les cils les plus sains possible et, en même temps, aider à augmenter vos revenus! Nous avons tout eu un client utilisant un mascara / eye-liner / un démaquillant huileux  ignorant la raison pour laquelle leurs cils ne durent pas. En étant capable de fournir des produits sécuritaire pour les extensions de cils en revente, vous allez économiser du temps pour de futurs remplissages avec des extensions qui peuvent durer plus longtemps. L'accumulation de protéines devient une chose du passé en introduisant une mousse nettoyante à vos clients. Avec l'aide d'une mousse nettoyante, vous pouvez aider à combattre les protéines et prévenir la blépharite sans détruire votre travail. Une cliente est-elle accro à l'utilisation du mascara? Suggérez un magic coating, un scellant teinté super noir qui protège non seulement la colle, mais teint les cils naturels pour aider à donner la finition noire lustrée à ses extensions. Demandez à vos clientes d'utiliser des produits qui vous aident en tant que technicienne au lieu de vous entraver et vous aimerez votre lash life. De plus, vous aurez des revenus supplémentaires pour vous gâter. <3
Pour tout le mois d'octobre recevez un eye-liner noir avec chaque commande de plus de 200$
La mousse nettoyante est une formule de nettoyage unique qui mais a été utilisé sur les clients souffrant de blépharite avec des résultats remarquables. Un bon nettoyage des cils est essentiel dans la prévention des infections oculaires qui peuvent se produire lorsque les bactéries ou les niveaux de pH sont hors d'équilibre. Ceci est un produit absolu pour tous les personnes qui ont des extensions de cils pour maintenir l'hygiène et la santé des yeux!

 
Bouteille prête à utiliser avec la pompe à mousse
formule conçue pour les yeux et la peau sensible
Enlève l'huile naturelle des cils qui endommage l'adhésif

Prix artistes LFL: $17.95
Prix de détail suggéré: $25
Ces tampons démaquillant sont pré-humidifiés et sans huile, conçues pour les extensions de cils. Elles sont parfaites pour un usage quotidien. Les tampons démaquillants peuvent être vendus aux clientes pour le soin de leurs extensions.
Prix artistes LFL: $14.95
Prix de détail suggéré: $20
 
Le Eyeliner Dlux est une formule nouvelle et améliorée. Ce eyeliner sans huile est disponible en deux couleurs magnifiques, est sécuritaire pour les extension de cils et peut être facilement enlevé avec de l'eau. Un excellent produit à offrir en revente aux clients.
Pinceau très fin
Tenue de longue durée
Facile à nettoyer
Disponible en Vivid Black et Matte Brown
Prix artistes LFL: $12.95
Prix de détail suggéré: $22
Le mascara magique Dlux est actuellement un mascara protecteur scellant pour cils teinté noir.

Le protecteur pour cils est un produit à avoir pour maximiser la durabilité de la colle. Il protège les cils contre le gras, la saleté, l'eau, l'humidité, la transpiration ou tout autre éléments qui peuvent endommager la colle. Le protecteur garde aussi les cils hydratés et brillants. Ce produit a une couleur noire, ce qui teint les cils naturels noirs pour un look uniforme et dramatique. Il est parfait pour les clientes qui aiment porté du mascara, car il teint les cils noirs qu'elles veulent sans le poid du mascara ou le dégat qu'un mascara normal laisse dans les extensions! Nous recommandons de vous démaquiller le soir avec un démaquillant sans huile. Ce produit n'est pas recommandé pour les poses de cils volume, car ce produit va fermer les jolies bouquets.



Prix artistes LFL: $14.95
Prix de détail suggéré: $36
Le protecteur pour cils est un produit à avoir pour maximiser la durabilité de l'adhésif. Il protège les cils contre le gras, la saleté, l'eau, l'humidité, la transpiration ou tout autre éléments qui peuvent endommager l'adhésif. Le protecteur garde aussi les cils hydratés et brillants.
Prix artistes LFL: $14.95
Prix de détail suggéré: $36
Copyright © *|CURRENT_YEAR|* *|LIST:COMPANY|*, All rights reserved.
*|IFNOT:ARCHIVE_PAGE|* *|LIST:DESCRIPTION|*

Our mailing address is:
*|HTML:LIST_ADDRESS_HTML|* *|END:IF|*

Want to change how you receive these emails?
You can update your preferences or unsubscribe from this list.

*|IF:REWARDS|* *|HTML:REWARDS|* *|END:IF|*