Ruthie Belle - Dark Energy 5 grams, replacing Dark Matter
Ruthie Belle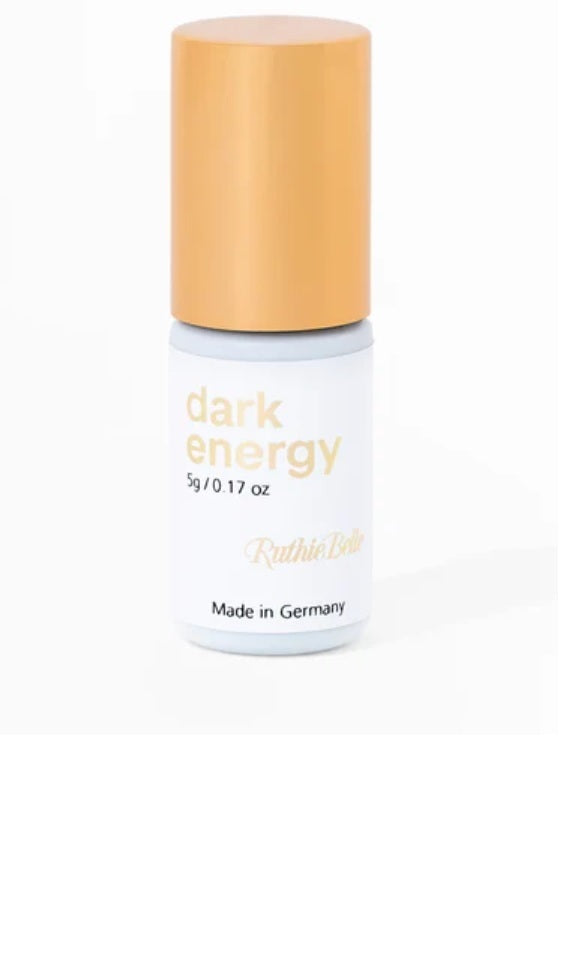 * * Sorry, we cannot ship this product to the US
WHY DARK Energy ?
Dark Energy is a science-based upgraded version of our previous Dark Matter & Dark Matter Pro lash adhesives. Our lab tests have proven that it's excellent!

Dark Matter is a fast-setting (cures in less than a second) and oil-resistant lash glue that results in better retention.

- Works with virtually any humidity 20 to 90% and, - temperature 16°C to 39°C (61°F to 102°F)
- Bonds in half a second to one second
- Minimal fumes keep you and your customers' eyes healthy
- 100% oil proof
- One glue dot lasts for up to 5 hours, stays fresh
- Allows you to work faster
- Suitable for intermediate and advanced lash stylists
- Works with all types of lashes and techniques

 HOW IT WORKS
The purity of the cyanoacrylate used in Dark Energy allows it to work with any humidity and any temperature. Generally, the higher the humidity the longer the glue drop will stay fresh, but tests show Dark Energy works perfectly in humidities varying from 20% to 90%, and the glue is optimized in temperatures that range from 16°C to 39°C (61°F to 102°F).

While Dark Energy sets very fast, it does not dry out on your lash plate or lose its adhesive capability. One glue dot remains fresh up to 5 hours. This means one bottle of Dark Energy can be 3 to 10 times more efficient than other adhesives and as you do not need to refresh your glue dot every 30 minutes.

HOW TO USE IT
- Shake well for 1 minute before first use
- * * Use Dark Energy only on plastic surfaces
- Allow to air for 5 minutes
- Work from the middle of your glue drop, using a scooping technique to pick up a bubble of adhesive and apply it on the root of the extensions
- No need to replace glue dots even when they begin to dry out from the outer edge. Get a fresh dot only when the texture becomes stringy
- If you use pinching method/finger roll to create volume fans, do not use hand sanitizers with high alcohol content (opt for alcohol-free hand sanitizer) and do not use regular primers/glue accelerators as their main active ingredient is alcohol.
- Use ONLY Ruthie Belle's Adhesive Superdry as a primer/adhesive accelerator (Superdry works with all other adhesives too).

HOW TO STORE IT

- Shake well for 1 minute before first use
- Keep container tightly closed when not in use
- Store away from direct sunlight or heat
- Keep in a cool place, preferably under 25°C (77°F). Unopened bottles may be kept on the middle shelf of the refrigerator. In these cases, take out 30 minutes before first use and shake well for 2 minutes. Never keep an opened bottle of Dark Energy in the fridge to avoid condensed water from developing and starting the glue's curing process within the bottle.
- If stored correctly, Dark Energy stays fresh for 6 months unopened and for up to 3 months after opening
 - The shelf life is six months
- Use within three months after opening
*RUTHIE BELLE PRODUCTS ARE NOT ELIGIBLE FOR DISCOUNT CODES* 
 *ADHESIVE CAN NOT BE RETURNED OR EXCHANGED*
OTHER INFORMATION
- Manufactured in Germany according to EU regulations
- Cruelty-free
- Latex free
- Vegan
Please note that Dark Energy should be used only by experienced lash artists.